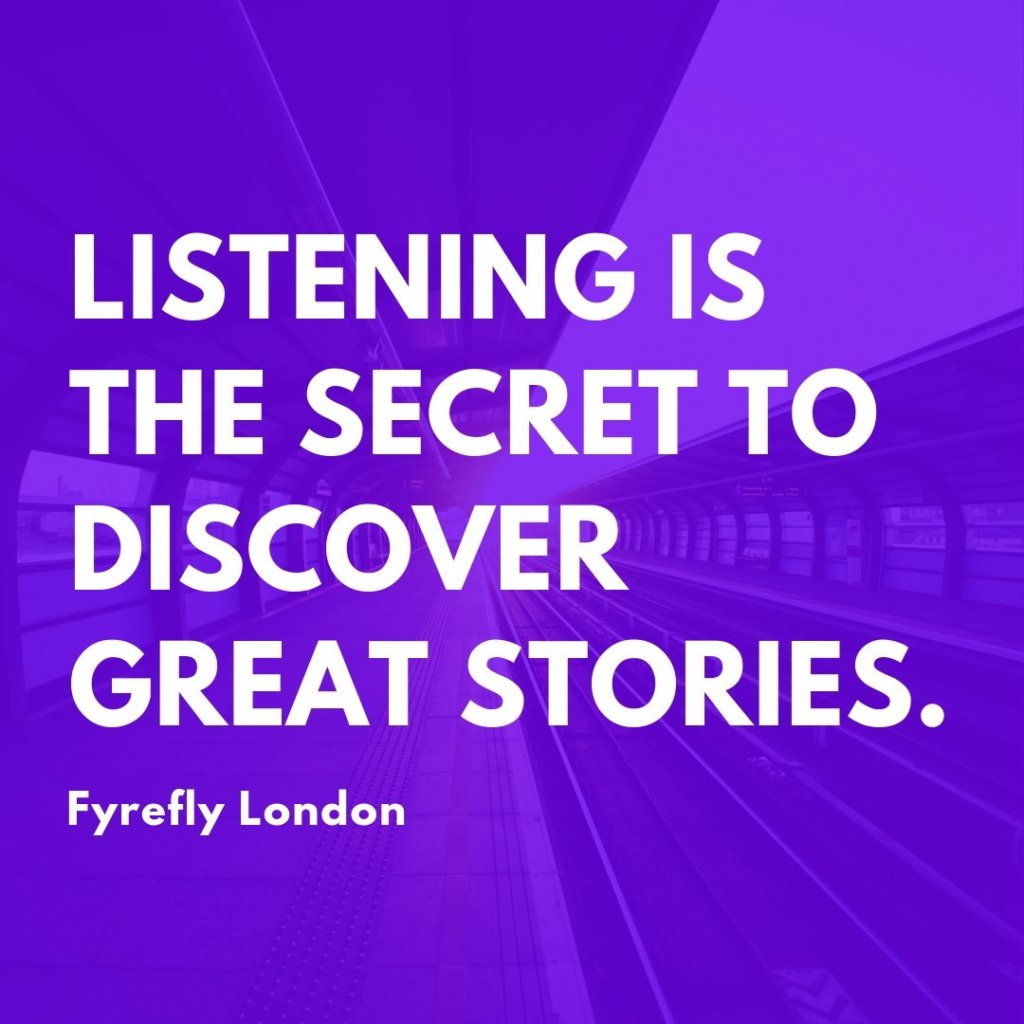 "Listening Is The Secret To Discover Great Stories." – Fyrefly London
One of the hardest things to do in marketing is come up with fresh content on a consistent basis. It isn't enough to simply present new articles or a sparkling infographic, you need to tell a story. That story has certain expectations that it must fulfill. It needs to be TRUE, COMPELLING and RELEVANT. All three seem like no-brainers but you would be surprised at just how hard it can be to explore topics and sub-topics within your niche from a fresh perspective.
This is where companies have a chance to shine in their online marketing. By the story they tell. First off, your story must be TRUE. The worst thing you can do is make up fake experiences or lie to your audience. Eventually, they will figure out your product doesn't do what you falsely claimed it does or that all the experiences are far from what actually happens. Don't be this person because you will lose trust in your brand and harm your overall business.
It shouldn't be hard to find new stories for fresh content because the biggest tool you have in your marketing box is your audience. Use THEIR stories. After all, they are the ones using your products or services and have actual tales. Listen to them. Stop cramming a bunch of infomercial sales pitches down their throat and give them a forum in which to voice their opinions. Start a discussion group on Facebook, a hashtag on Instagram or run contests on social media for those who share pictures of themselves using your products or their experiences. By showing your audience that you value their opinions and are offering a chance for their voices to be heard, you will see an overwhelming response in those who wish to participate.
Once you have these true stories, you simply must pick the ones that are the most relevant and compelling to the rest of your audience or to potential customers. Are these stories showcasing your product solving a common problem in people's lives? Is it intriguing enough to pique curiosity? Everyone is interested in saving money, getting free stuff, being entertained/amused and solving problems. Where does your story fit and how can you tailor content around it?
Stories can give you inspiration for a whole series of content. From one story you could make an article, infographic, how-to video, case study, etc. Look at your story and see what sub-topics could spawn from it. You never know how many different angles you could explore from one simple story.
Listen to your customers. They just might be the best thing you've ever heard.
With a plethora of options available when it comes to advertising, your small business might just reap bigger rewards than both you and the competition realize!
Join us for the TGR SEO Services 2020 roundup and, on behalf of everyone here, have a joyous, abundant, prosperous, happy and healthy coming year!
The entire staff of TGR SEO Services would like to wish you a joyous holiday filled with love, happiness, glad tidings and good health!