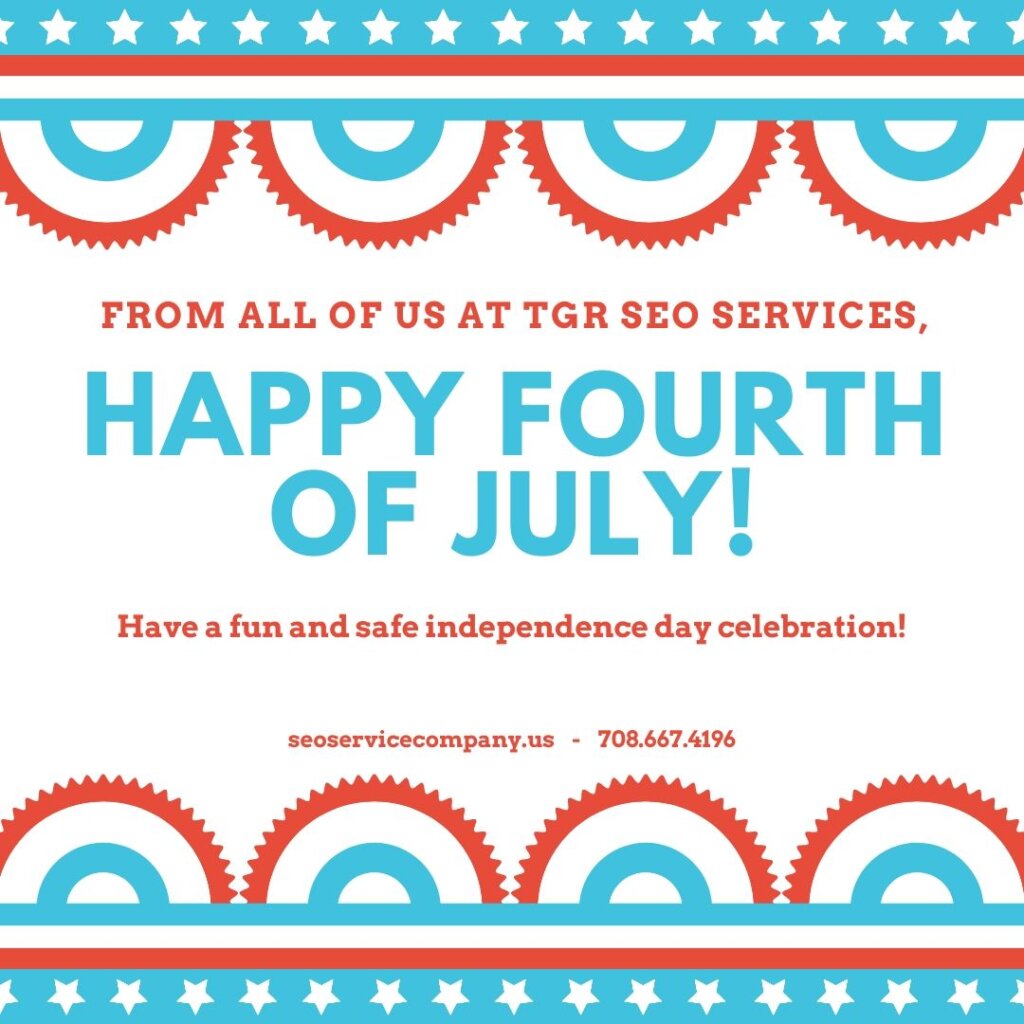 On behalf of all the staff here at TGR SEO Services, we wish you and your loved ones a very safe and happy Independence Day!
From barbecues and bags tournaments to festive decor and gorgeous fireworks shows, we hope you enjoy your holiday weekend. The world has been a crazy place the past few months and this Fourth of July is the perfect time to relax and re-unite with friends and family. If you are traveling, we wish you a safe journey!
During the holiday weekend and long after, TGR SEO Services provides professional marketing services for all of your business needs. From traditional marketing to social media and digital marketing campaigns and everything in between, we help you spread the word about your products and services. Our staff focuses on maximizing the effectiveness of your marketing dollar and truly connecting with your target consumer. Your business is your livelihood and we cultivate and maintain relationships with your most vital asset – your customers.
Not only do we focus on marketing and SEO but we build and maintain professional, responsive business websites for our clients. Designed to impress, our websites are built with intelligent security protocols to thwart hacker and bot attacks in real time, protecting the core of your online presence.
The world is a much different place then it was a few months ago – isn't it time to propel your business into the success it deserves? Contact our experts to find out how we can help.
Have A Great Fourth of July!
If you would like to see how to get a Free Website for Business, click here >>> Free Website!
We also offer online marketing and business websites in Los Angeles, Chicago and many more cities!
#websitedesign #freewebsiteforbusiness #businessadvertising #marketingforsmallbusiness#onlinemarketingagency
With a plethora of options available when it comes to advertising, your small business might just reap bigger rewards than both you and the competition realize!
Join us for the TGR SEO Services 2020 roundup and, on behalf of everyone here, have a joyous, abundant, prosperous, happy and healthy coming year!
The entire staff of TGR SEO Services would like to wish you a joyous holiday filled with love, happiness, glad tidings and good health!