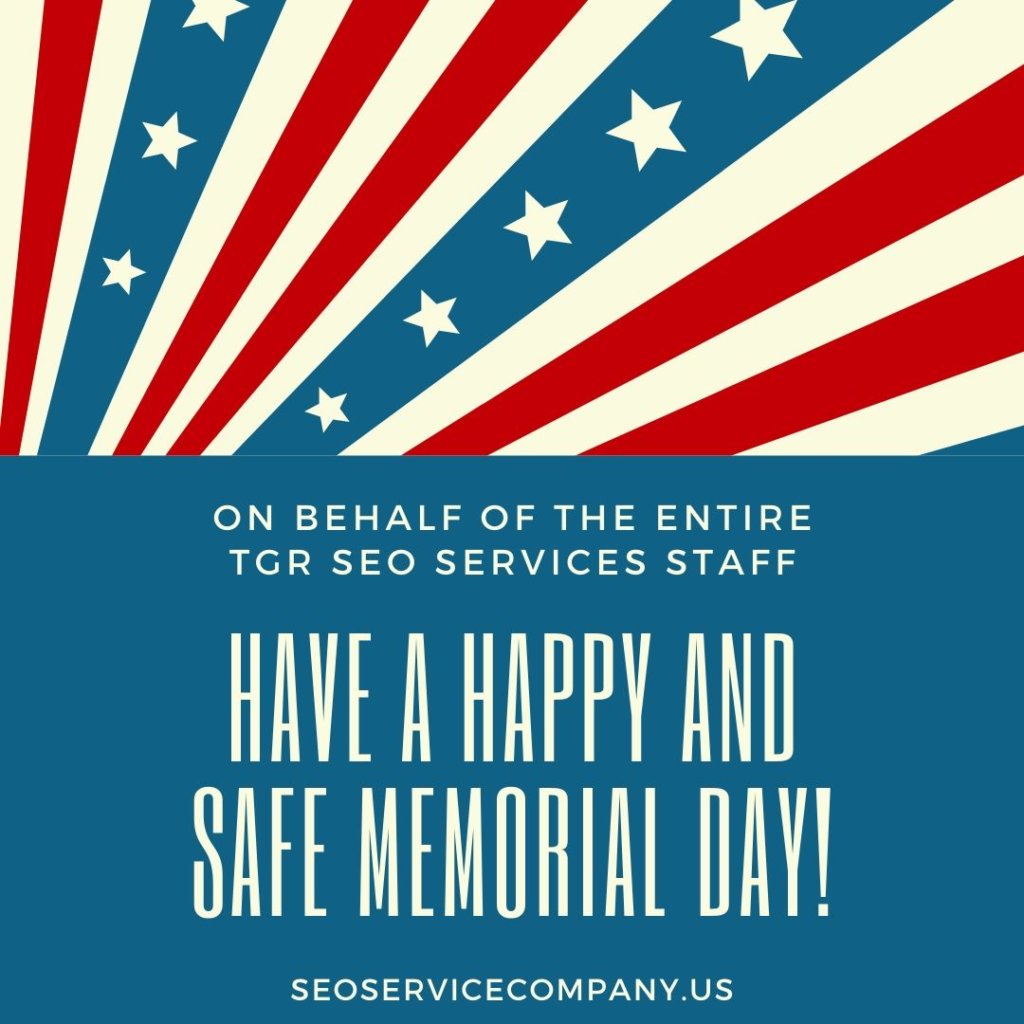 The quarantine restrictions are slowly easing and many states are already back in action. While it has been a confusing time in our history, there has never been a more perfect moment to stand together and get back on our feet as a nation like Memorial Day weekend.
Brave service men and women made the ultimate sacrifice so we could enjoy basic freedoms and live happy, healthy, productive lives. Memorial Day is a time to honor the actions and dedication of those fallen and what they have provided us. Whether your celebration includes barbecues, swimming pools, parties, fireworks or simply taking a moment to reflect, TGR SEO Services would like to wish you and your loved ones a very happy and safe Memorial Day.
No matter what happens during the next few weeks, take comfort in the fact that we are stronger together and can overcome substantial odds. If you have a service or product that can offer aid for those affected by the virus or to protect others from catching it, take a look at How To Get The Word Out Fast. There are many who need a helping hand, be it physically, emotionally, mentally or financially, and you might just have what they need to stand triumphant once again.
As the country slowly reawakens from our quarantine slumber, we may not know what the immediate future looks like or how it will be altered but take comfort in the fact that it shall pass and brighter days are due to shine upon us.
Happy Memorial Day To You And Yours!
If you would like to see how to get a Free Website for Business, click here >>> Free Website!
We also offer online marketing and business websites in Los Angeles, Chicago and many more cities!
#websitedesign #freewebsiteforbusiness #businessadvertising #marketingforsmallbusiness#onlinemarketingagency
With a plethora of options available when it comes to advertising, your small business might just reap bigger rewards than both you and the competition realize!
Join us for the TGR SEO Services 2020 roundup and, on behalf of everyone here, have a joyous, abundant, prosperous, happy and healthy coming year!
The entire staff of TGR SEO Services would like to wish you a joyous holiday filled with love, happiness, glad tidings and good health!