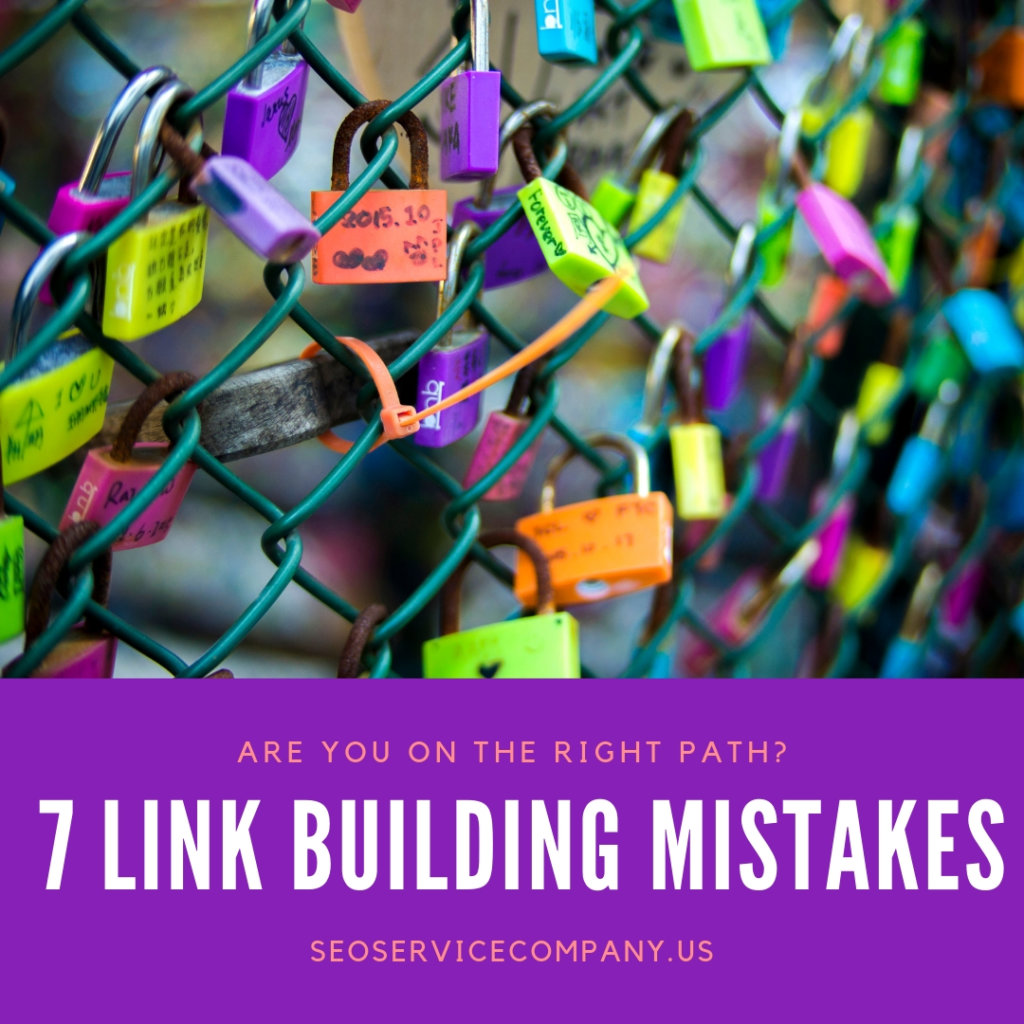 The backbone of a successful SEO marketing campaign comes down to great content and quality backlinks and link structure. There are hundreds, if not thousands, of ways for you to earn quality backlinks. Being creative and looking for rarely exploited opportunities are what drives the most ambitious to seek out new ways to earn backlinks and rise in the search rankings.
Yet, no matter how altruistic your intentions are, you may be making massive mistakes in seeking links that could damage your site reputation and cause you to fall in the search rankings.
7 Link Building Mistakes
Bad Reputation

– Sites with a bad reputation are anything that falls under the range of illegal sites, porn sites, gambling sites, duplicant content sites, auto-blogging and spam sites. Search engines dislike these sites and if you link to them, they are likely to dislike you as well.

No-Follow Links

– A no-follow link is a value added to HTML that instructs the search engines not to use that link to determine search rankings. There is really no purpose to have nofollow links. They won't help your search rankings and most search engines completely ignore them.

No Variety

– While getting links from high page ranking sites is fantastic, if the only links you ever have are from high pr sites, Google will think there is something spammy happening. Try for a variety of high and low pr sites.

Buying/Selling Links

– This is the practice where you pay someone to link to your site. Long considered one of the biggest no-no's in link building, search engines despise the practice. There is much debate that, if done well, search engines couldn't possibly know but it is a very slippery slope. Search engines adore natural, or organic, links and punish any spammy behavior they find.

Short Span

– If you try and build a ton of links in a very short time, you appear to search engines as a link farm and could get your site removed from being indexed all together. Slow and steady wins the link building race so work on acquiring quality links over time, NOT overnight.

Niche Sites

– Get links from a high pr site within your niche, or industry. Getting backlinks from a pet supplies site when you are selling golf clubs does nothing for your ranking. They are considered fluff links.

Anchor Text

– Use a keyword in your anchor text instead of your name or site name. This not only gets you a backlink but helps you rank for that target keyword. Definitely do not repeat the same keyword throughout backlinks or you could get flagged for excessive keywords. Using the golf club example, instead of using "check this" or "click here", try "Get Your Golf Clubs" or "Golf Supplies Chicago" as the anchor text. Those are bare basic examples but you get the idea.
Link building can be a very long, tough venture but the rewards are priceless. Having earned quality, organic backlinks, you can boost your rankings and climb the ladder to page one of search results. Implement as many strategies as possible because you never know where your highest pr links will come from and how many you may receive overall by casting a wider net. Be persistent, consistent and patient – if you build links, search spiders will take note and your time will come.
With a plethora of options available when it comes to advertising, your small business might just reap bigger rewards than both you and the competition realize!
Join us for the TGR SEO Services 2020 roundup and, on behalf of everyone here, have a joyous, abundant, prosperous, happy and healthy coming year!
The entire staff of TGR SEO Services would like to wish you a joyous holiday filled with love, happiness, glad tidings and good health!