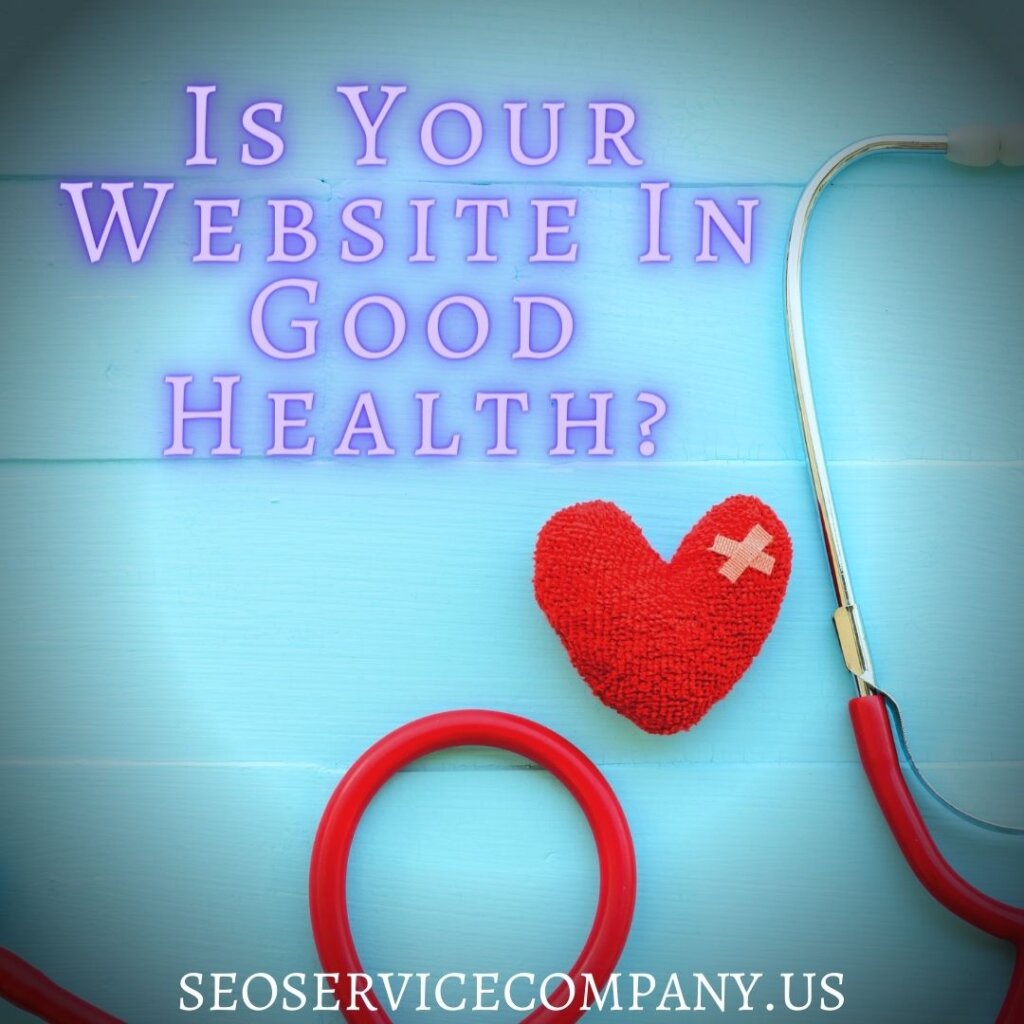 Very similar to how we monitor our own well-being, a website requires care to remain healthy and vital.
The health of your website isn't simply if it's up to date or how quickly it loads, although these are very important. Conducting an audit of your site is critical in determining what issues exist and how to strengthen and set it up for future growth. Audits are your website's version of a doctor checkup. There can be many facets to an audit but here are points you should recognize when it comes to your business website.
Errors/Warnings – This seems obvious but there should be NO broken files, duplicate meta descriptions, http and https link issues, broken internal links, images without alt attributes, duplicate title tags, external links with nofollow attributes, more code than content, more than one H1 tag on each page, etc., etc. This list can be lengthy but the point is that your website doesn't confuse search engines or consumers, works appropriately while following rules and maximizes its own content and structure to increase efficiency and ranking.
Optimized – Every page on your website should serve a specific purpose. Gone are the days when you could have filler, fluff or other assorted nonsense. There should be clear goals and calls to action. These not only make things easier for the user but help with ranking in search engines. Quality content should be published regularly to appease the search engine gods and keep your audience engaged and interested in interacting with your company. There should be a focus on appropriate target keywords – WITHOUT saturation – and written for your customers, not for computer bots. Every bit of content matters – from your intro or about me to your website blog. It should be structured and maintained accurately and diligently.
User Experience – A huge part of your website health is how the average consumer uses it. Everything, and we do mean EVERYTHING, is about user experience nowadays. If the consumer struggles with or is confused by your website, they are less likely to return and may go to a competitor. The user wants easy, simple and fast. This being said, your site should be well organized. Easy to read text, no clutter, simple to find and use navigation menus, quick loading – well, you get the point. It should be easy for a consumer to find what they need on your site with no wait times for loading. Think consumer friendly all the time.
Analytics – Your website is a huge mine of data – data about consumer habits, data about the power of your products/services, data that can form current and future marketing. It's one, if not THE, most powerful tool in your arsenal. This data needs to be collected and analyzed. It needs to be saved, molded and put to scope. It can be complex, neatly automated or whatever varied combination you need. If you don't have a person or firm dedicated to this aspect, you should. This data can save you money, make you money, grow your brand and shape the entire future of your business.
Security – One of the most important aspects for your site is security. You need to make sure that it's protected from hackers, bot attacks, phishing and other malicious threats. With the rate in which technology is expanding, you need more than a simple firewall. You might just need a moat, knights, catapults, dragons – the whole nine yards. Of course, the main issue is sensitive customer information but think blacklisting. If an attack breaks the rules of, say Google, your site can be flagged and even banned. Once a site is banned, it can be nearly impossible to restore and all of your hard work goes down the drain. Protect yourself properly.
These are only a few areas in which your website health is determined and forged. Branding, contact, takeaways – there are quite a few areas in which your website can shine or fail. Be mindful that with search engine algorithm changes, advancements in technology and evolving needs of consumers, your website needs to be consistently maintained and fine-tuned. Keeping your website in good health will not only help your business thrive and adapt but stay ahead of consumer needs in order to forge a fruitful future!
To schedule an audit of your website, inquire about our intelligent protocol security or help increase the health of your business site, call one of our specialists at 708.667.4196 today!
If you would like to see how to get a Free Website for Business, click here >>> Free Website!
We also offer online marketing and business websites in Los Angeles, Chicago and many more cities!
#websitedesign #freewebsiteforbusiness #businessadvertising #marketingforsmallbusiness#onlinemarketingagency
With a plethora of options available when it comes to advertising, your small business might just reap bigger rewards than both you and the competition realize!
Join us for the TGR SEO Services 2020 roundup and, on behalf of everyone here, have a joyous, abundant, prosperous, happy and healthy coming year!
The entire staff of TGR SEO Services would like to wish you a joyous holiday filled with love, happiness, glad tidings and good health!