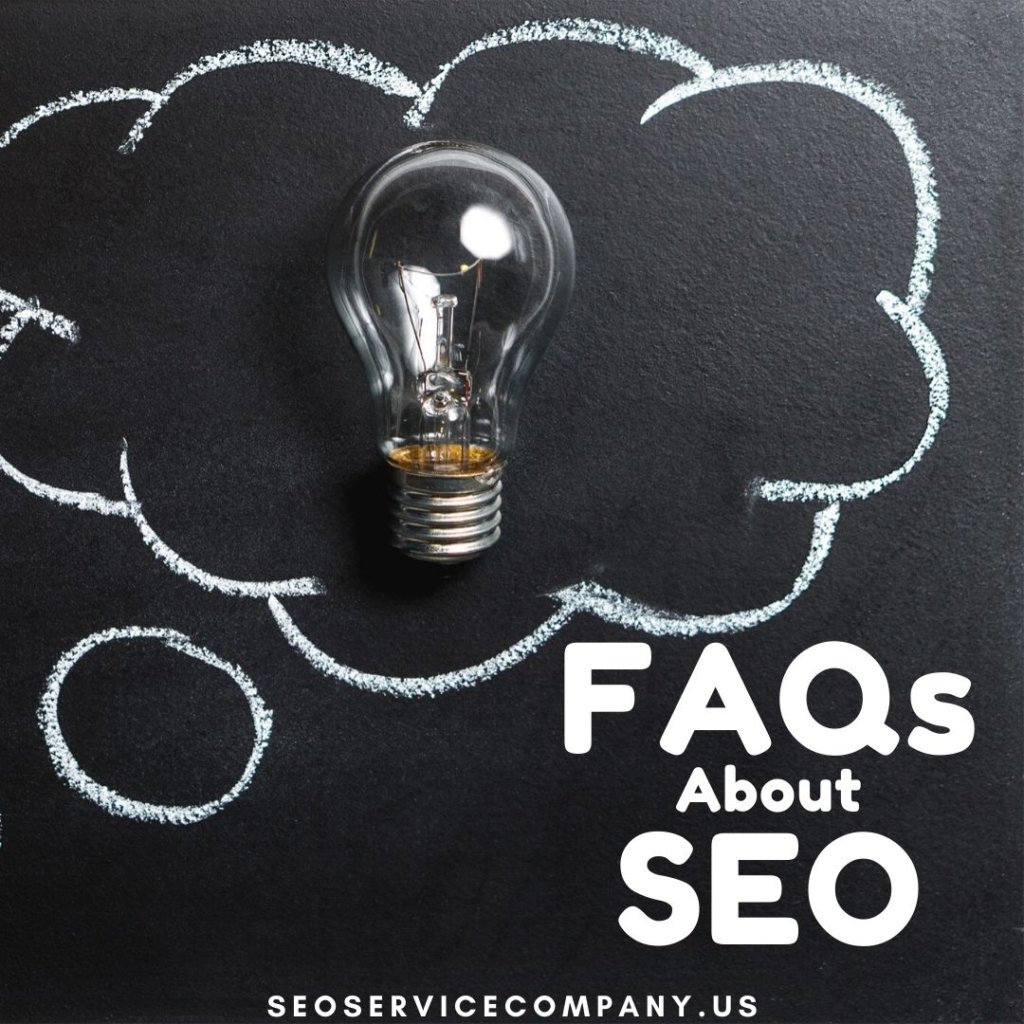 Frequently Asked Questions About SEO Services
When it comes to digital marketing, there is no such thing as a silly question. Being transparent and making the entire process easy to understand is important to us in regards to our clients and what you may be curious to know depends on you, your understanding or experience of/with digital marketing and what you are looking to achieve. No question is off-limits and believe it when we say we've heard it all. Here are a few basic questions that are asked most frequently and a brief explanation…
WHAT IS SEO?
Search Engine Optimization is the process of improving the visibility of a website, or web
page, in search engines via natural search results. In general, the higher on the search engine
first page (LIKE GOOGLE), and the more frequently a site appears in the search results, the
more visitors it will receive from users. 70% of all users click on the first page of Google. Is
getting a higher placement on Google something you would like to do for your business?
IS THIS ILLEGAL/IS THIS BLACK-HAT?
We use only industry accepted methods and are committed to Google's Webmaster Guidelines.
We do not endorse black-hat methods, nor do we believe in the results they produce. SEO is not
illegal and is a widely accepted industry.
BUT, I'M ALREADY PAYING FOR SEO AND NOT SEEING ANYTHING…
The bottom line is if you aren't ranking well for your targeted keywords, the SEO isn't working. 75% of all clicks in search engines take place on first page listings – if you aren't ranked there for some of your keywords, you are wasting money. Is ranking on the first page for effective keywords something you're interested in?
HOW DO YOU GET MY WEBSITE LISTED ON TOP?
It takes hard work, persistence and many different strategies to rise in search engine rankings. While complex for many keyword sets, it isn't altogether impossible. Being first shouldn't be the goal – being VISIBLE should be. We use white hat methods such as: website back-linking, content marketing and social media, to improve the quality of your website. Would you like to receive more visitors to your website and more customers by using SEO?
(X COMPANY) OFFERS SEO PACKAGES FOR $99.
It is important to realize what you are getting when you sign up for a company like this. This
company will merely submit your URL to Google, Yahoo and Bing, and use a cookie cutter
system for each website. That is not enough effort to take in order to get your website placed
higher in Google. Is getting a higher placement on Google something you would like to do
for your business?
MY BROTHER/COUSIN/SISTER/SELF IS GOING TO DO IT.
We respect the do-it yourself attitude, and our roots are planted in the entrepreneurial spirit.
SEO is not magic, and it can be done at home, however most individuals do not have the
expensive software and the skill sets that it takes to get a website listed on Google, nor do
they have the time. Unfortunately, what happens most of the time when people attempt to do
SEO is that they misplace back-links and cause irreparable damage to their site that will
prevent them from getting ranked on any search engines. In some cases Google will
actually sandbox the website for a period of 12-36 months so even your current customers
can't find you. Is getting ranked high on Google AND building a bond with your current base a
priority for your business?
WHAT ARE YOUR PRICES?
You can read all about our packages and their pricing by clicking here >>> TGR Service Packages.
If you would like to see how to get a Free Website for Business, click here >>> Free Website!
We also offer online marketing and business websites in Los Angeles, Chicago and many more cities!
#websitedesign #freewebsiteforbusiness #businessadvertising #marketingforsmallbusiness#onlinemarketingagency
With a plethora of options available when it comes to advertising, your small business might just reap bigger rewards than both you and the competition realize!
Join us for the TGR SEO Services 2020 roundup and, on behalf of everyone here, have a joyous, abundant, prosperous, happy and healthy coming year!
The entire staff of TGR SEO Services would like to wish you a joyous holiday filled with love, happiness, glad tidings and good health!