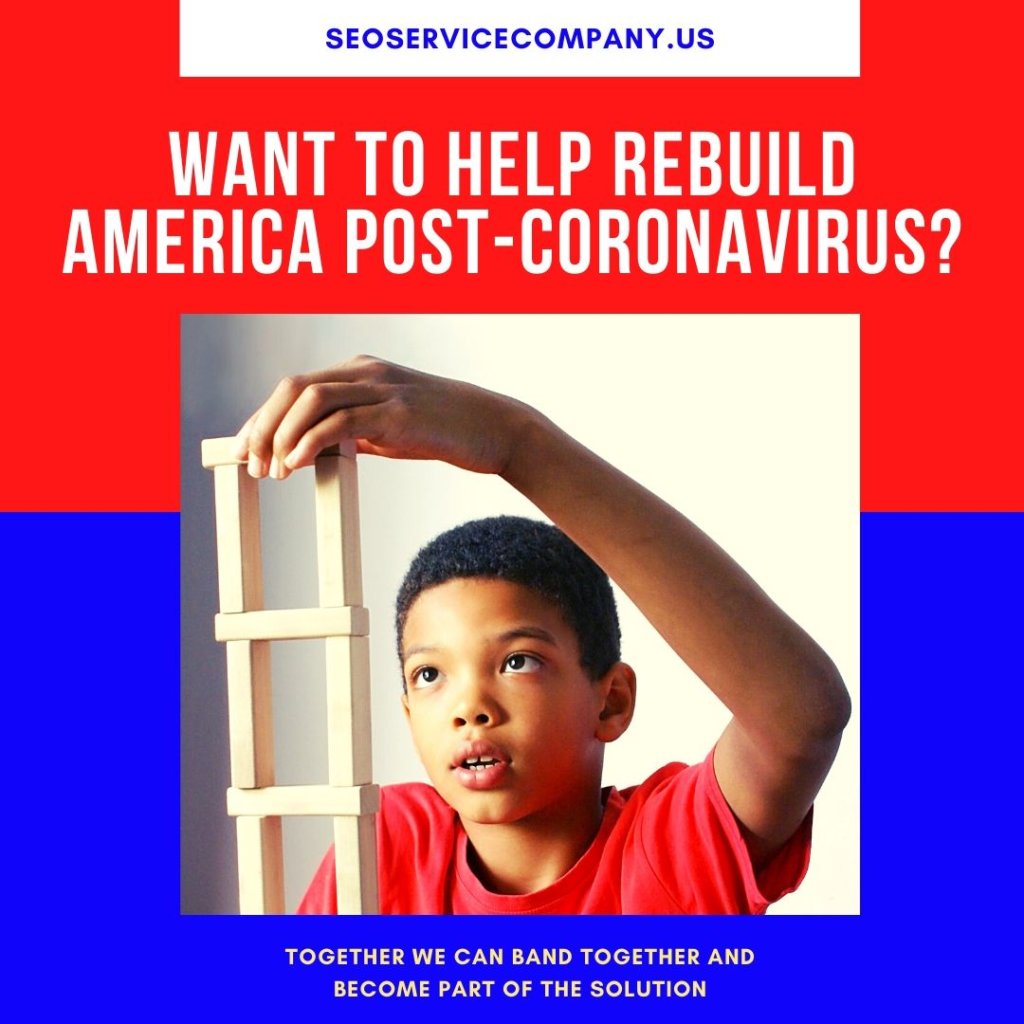 Coronavirus wreaked havoc in more ways than one. It not only affected our health and caused serious damage or even death but has run rampant with devastation among those who never even contracted it. The world went on lock-down to slow the spread but this shutdown, this quarantine, has put many out of business, created financial ruin and severe strain on everyone's mental and emotional states. It tore people and businesses down like they were paper mache.
As restrictions lift, it's time to get everyone on their feet and look to the future. All are not on the same page as the last few months have hurt some worse than others. Now is the time to rebuild America and you can help.
If you or your business has a product, service or information that can greatly help those significantly impacted by Coronavirus, we'll help you get the word out for nothing. That's right – no profit gained by us. The TGR SEO Services staff is donating their time to help companies connect with those who need aid.
Social Media
Blogs and Articles
Email Blasts
Text Message Blasts
Direct Mail Campaigns
Much, Much More!
We have a long way to go before the country can truly say we've survived the Coronavirus pandemic. As our economy heals and we focus on the future, it's time to help our neighbors survive and thrive. Together, we can share solutions that will help rebuild. It's time to connect with those who need you, isn't it?
Contact the

TGR SEO Services

staff at

708.667.4196

to find out more about how we can band together and become part of the solution.
If you would like to see how to get a Free Website for Business, click here >>> Free Website!
We also offer online marketing and business websites in Los Angeles, Chicago and many more cities!
#websitedesign #freewebsiteforbusiness #businessadvertising #marketingforsmallbusiness#onlinemarketingagency
With a plethora of options available when it comes to advertising, your small business might just reap bigger rewards than both you and the competition realize!
Join us for the TGR SEO Services 2020 roundup and, on behalf of everyone here, have a joyous, abundant, prosperous, happy and healthy coming year!
The entire staff of TGR SEO Services would like to wish you a joyous holiday filled with love, happiness, glad tidings and good health!