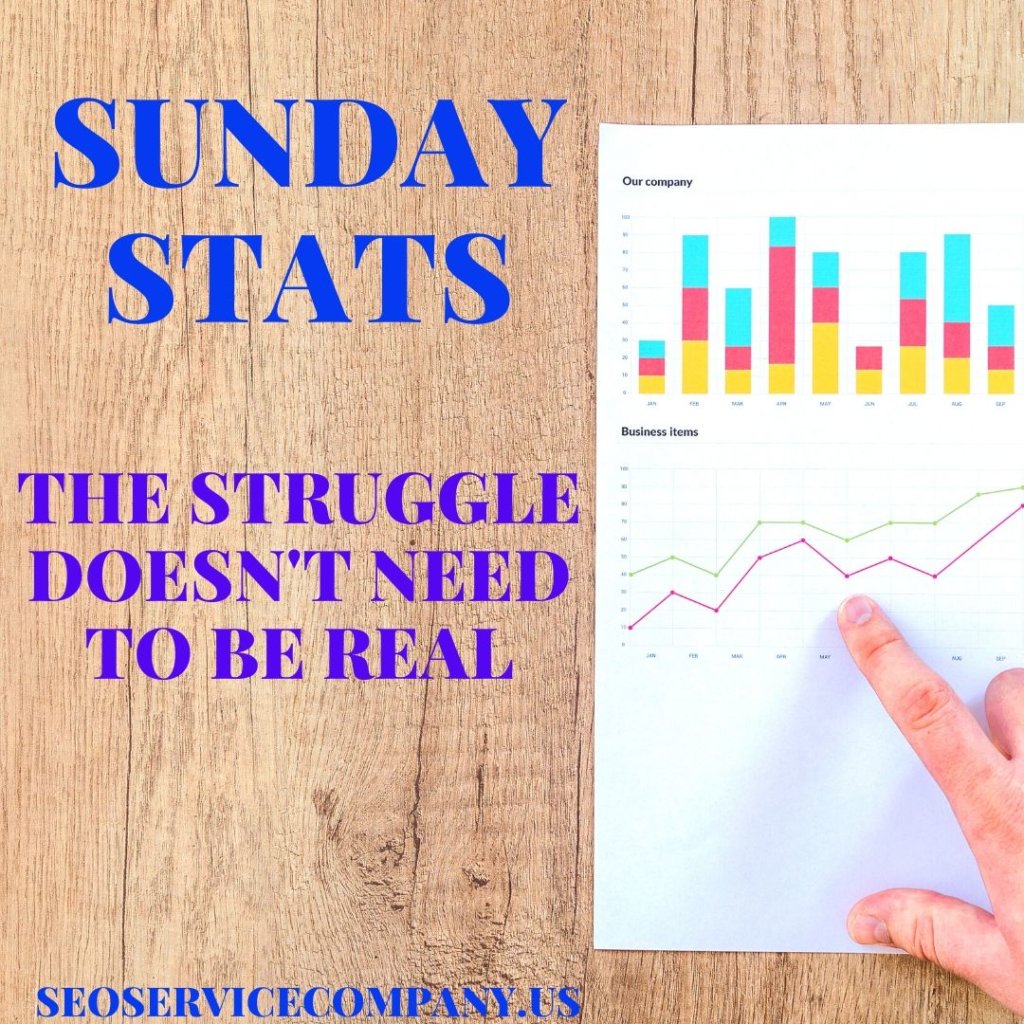 Sunday Statistics – The Struggle Doesn't Need To Be Real
Only 64% of small businesses have a website, citing cost, industry irrelevance and social media as main reasons not to have one
80% of small businesses do NOT invest in content marketing – the most effective channel for brand building and rising in search engine ranks
43% of small businesses use random employees to focus on digital marketing
Key Takeaway: It may not seem like it but the above statistics are practically a horror show! The easiest and most cost-effective way to reach consumers and keep your business afloat in this day and age is digital marketing. The world is transitioning more and more to depend on this outlet and technology has become so stream-lined to not only support it but enhance it. There are still a rare few industries that truly don't need the internet to conduct business but the majority of companies will not make it very far without focusing on some components of it.
If you fall into the category that needs the public finding you to do business, you should be heavily engaged in a marketing plan. Face it, you need a website. Aside from the general info it gives, the importance of a website lies in how the internet sees it. Search engines use your website as the foundation of how to classify and show you off to the world. Content marketing is HOW you become relevant to the world. It's how you ensure longevity for your company. The sad part? Not just anyone can do it.
Digital marketing is so misunderstood that employers and small business owners are letting anyone that works there post on social media or make a blog post. That's not enough. That will never be enough to break through the glass ceiling and have the search engines project you to everyone who needs you. In order to still be in business 20 years from now, you need to put a major focus on your marketing and make sure that you have folks who know how to do it and do it right. Otherwise, you will find the struggle is very real and very hard to overcome.
Contact your local digital marketing agency today to increase your brand reputation and implement amazing customer care tools into your overall customer service strategy!
With a plethora of options available when it comes to advertising, your small business might just reap bigger rewards than both you and the competition realize!
Join us for the TGR SEO Services 2020 roundup and, on behalf of everyone here, have a joyous, abundant, prosperous, happy and healthy coming year!
The entire staff of TGR SEO Services would like to wish you a joyous holiday filled with love, happiness, glad tidings and good health!