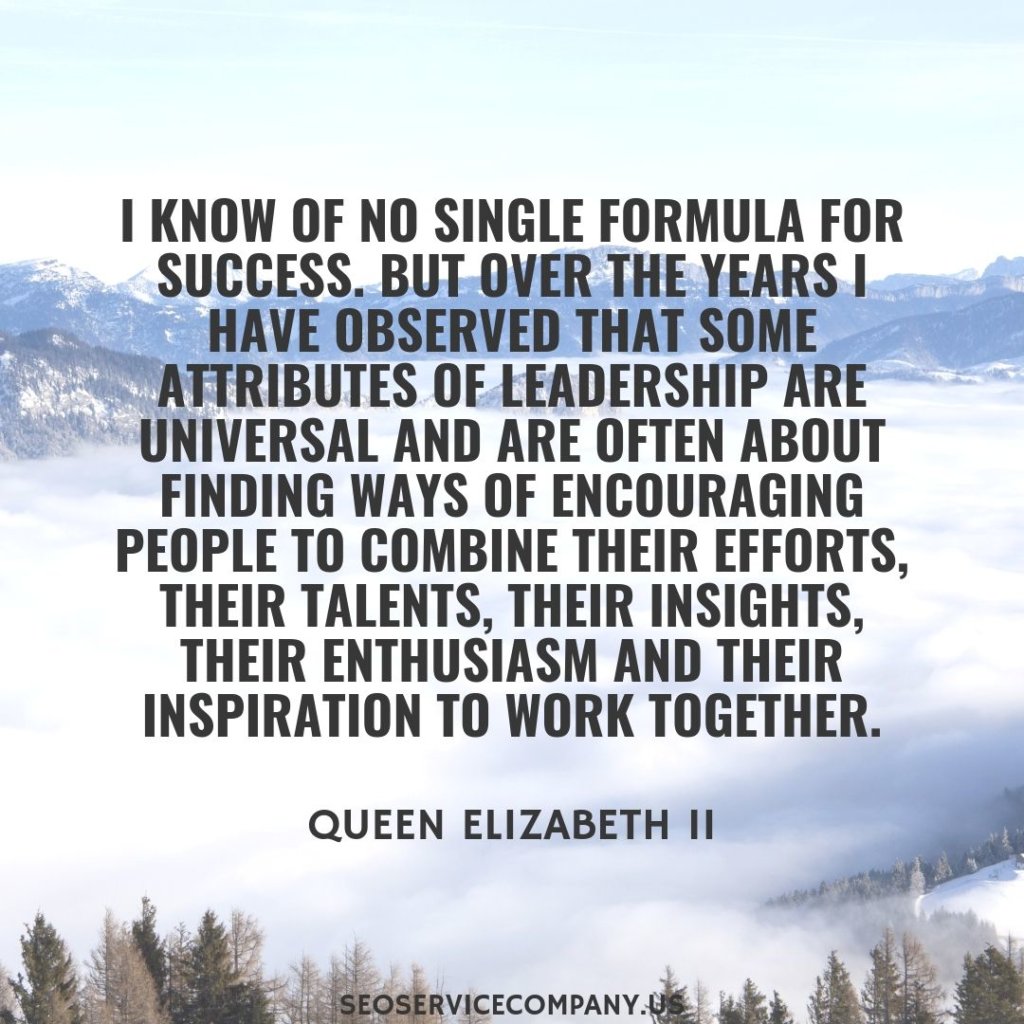 "I know of no single formula for success. But over the years I have observed that some attributes of leadership are universal and are often about finding ways of encouraging people to combine their efforts, their talents, their insights, their enthusiasm and their inspiration to work together." – Queen Elizabeth II
A great leader knows where their strength lies and hires the best people to do everything else.
Whether you run a small operation or a multi-billion dollar global enterprise, being a great leader has nothing to do with money or opportunity but everything to do with how you treat your workers and what you do with them. By having the best people handle areas you don't excel in, you are stepping aside to allow your company to grow and succeed. Your ego or want of complete control will only spell ruin for your enterprise. Understand that in order to be a great leader and achieve success you need to let others shine and show off their skill sets.
Encourage your team to step up and show what they can do. Provide opportunities to grow and expand so the ability to learn and evolve can flourish. If your workers improve their skills and better themselves as they go, it will only solidify the growth of your company. Share in their enthusiasm to learn and excel so they feel the support necessary to ramp up to the next level. Foster an atmosphere where opinions are valued and feedback is vital to project completion. By creating such an environment you will find that your workers are more excited and compelled to help you achieve more and create more chances for success.
Having a leader who encourages talent and insight while providing a constructive and stimulating atmosphere only solidifies their loyalty to you and perception of you. You become a great leader in their eyes – someone they will follow no matter what. A company is not one person, it simply can't be. There is too much to explore and shoulder for a single individual. Many great minds working together are always better than one. And having everyone practicing their strengths day in and day out will build a healthier whole overall.
Inspire, encourage and support instead of intimidate, abandon and destroy. You will find that more will be accomplished and there are no true limits for your success or the success of your team and company. Bring more to the table instead of your single view that may be missing golden opportunities.
You don't have to be the best, you just have to know how to manage them.
With a plethora of options available when it comes to advertising, your small business might just reap bigger rewards than both you and the competition realize!
Join us for the TGR SEO Services 2020 roundup and, on behalf of everyone here, have a joyous, abundant, prosperous, happy and healthy coming year!
The entire staff of TGR SEO Services would like to wish you a joyous holiday filled with love, happiness, glad tidings and good health!