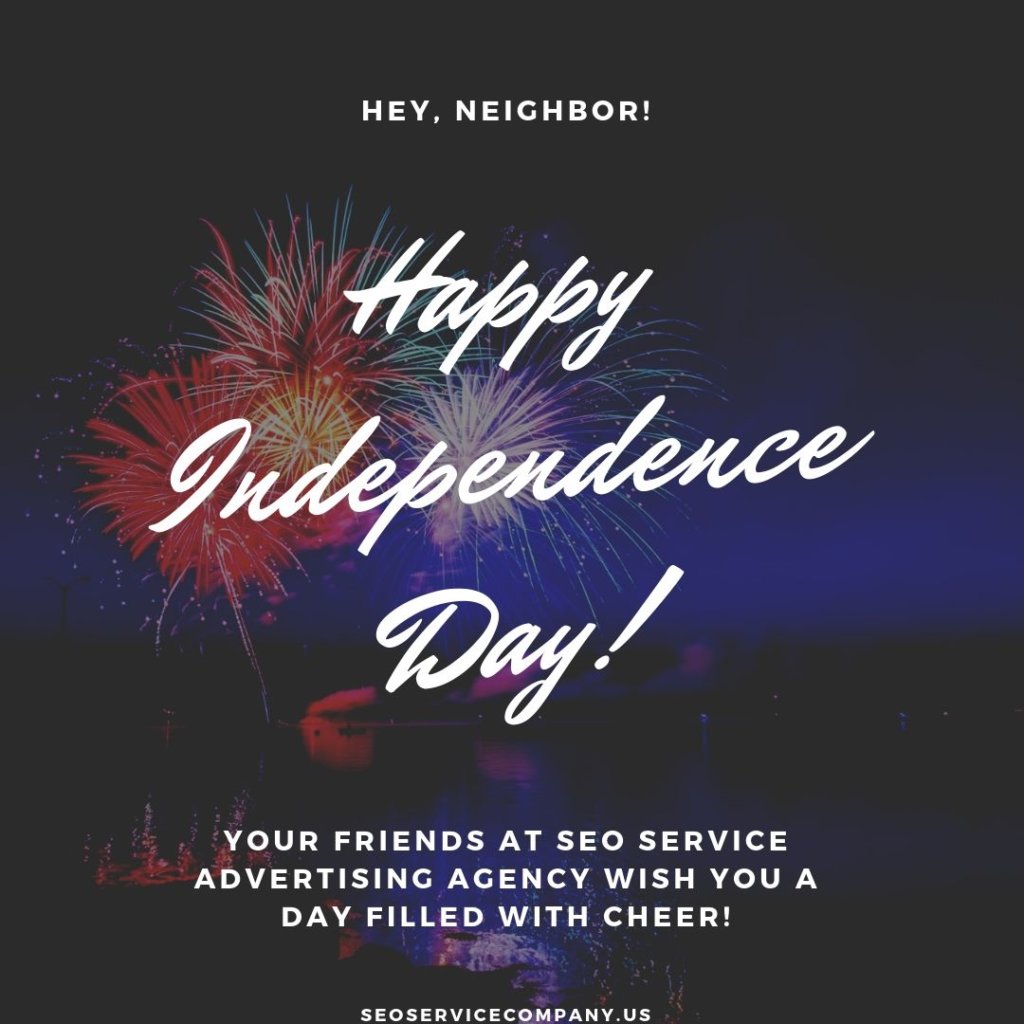 SEO Service Advertising Agency would like to wish all of our friends and neighbors a very happy and safe Fourth of July. May your day be filled with cheer, laughter, fireworks, great food and even more amazing company.
We celebrate the freedom that we tirelessly fought for and what that freedom allows us in this day and age. We have the ability to walk freely, worship how we want, love who we want and pursue our happiness – our dreams. It isn't just the colonists but every person throughout history that has challenged tyranny and tried to protect the persecuted that we have to thank. Without this bravery, these rebel thoughts, we would not be able to pursue our dreams of becoming a digital marketing agency.
In fact, the internet would be policed and we wouldn't be allowed to have unlimited access to it. We would be told what we can and can not view online. There would be no local marketing for businesses. Only companies approved by higher ups could advertise on Google or be in the top search result rankings. In essence, we would be told where to shop and with whom we were allowed to do business. Without freedom, there is no free enterprise.
Suffocating freedom allows tyranny to take root which leads to complete control of an individual's movements, goals and lifestyle. This is why we celebrate. Not simply to cheer on America's birth and break from British rule but to celebrate freedom in general and what the idea itself means for us on all levels.
And, so, we celebrate America but also the Chicago business owner who is allowed to advertise and gain customers freely. We celebrate the fact that we have the right to decide – whether it is where to shop, what you buy, etc., etc. We celebrate the fact that we can do what we love which is to market and create in order to help businesses grow. These freedoms are truly something to cheer.
Happy Fourth of July!!!
#independenceday #fourthofjuly #letfreedomring #freeenterprise
With a plethora of options available when it comes to advertising, your small business might just reap bigger rewards than both you and the competition realize!
Join us for the TGR SEO Services 2020 roundup and, on behalf of everyone here, have a joyous, abundant, prosperous, happy and healthy coming year!
The entire staff of TGR SEO Services would like to wish you a joyous holiday filled with love, happiness, glad tidings and good health!