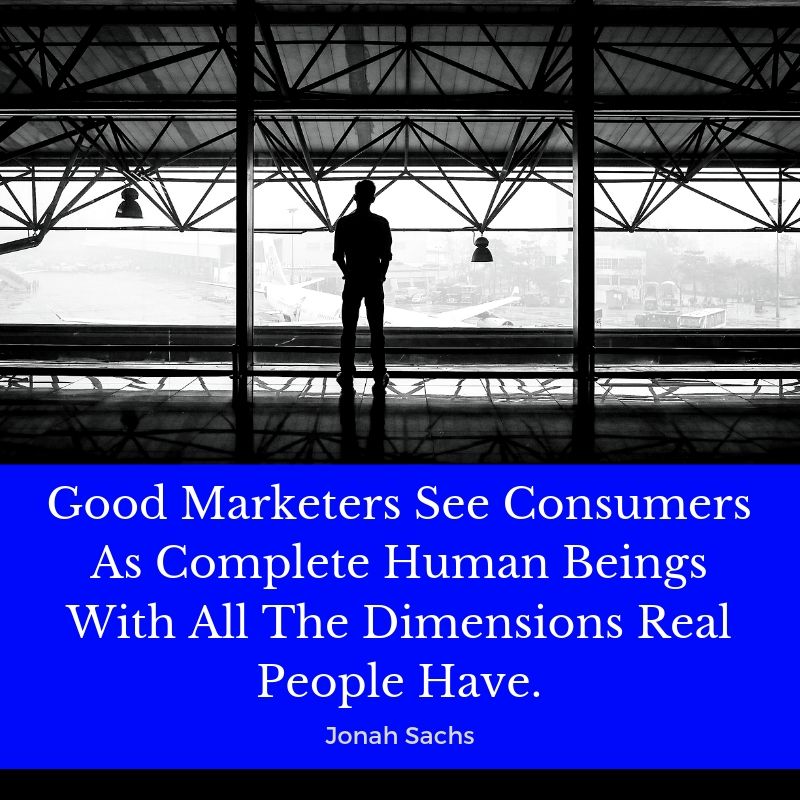 "Good Marketers See Consumers As Complete Human Beings With All The Dimensions Real People Have." – Jonah Sachs
Never talk down to your audience or treat them as insignificant numbers on your company spreadsheet. Consumers are smart and conduct business based on emotion. If you make them feel invisible, generic or simply seem to be baiting them to do something for you, they will leave you high and dry. People always remember how you make them feel and if that isn't good, they will associate that ill-feeling with your company. This DEFINITELY effects you in the long run.
Try to understand your audience. Find out what their problems are. What do they worry about? What concerns them most? Be helpful and give them solutions to ease these burdens or simply bring a smile to their face. You have to ACTUALLY care about them. They are YOUR clients. Don't you want to see these people succeed? If you do, then they will reward you by staying loyal to your brand, growing your company, increasing revenue and providing longevity for the future of your business. A solid foundation on which to build endlessly.
If you don't feel this way, then they will abandon you and your company will not see the growth or prosperity it should be. You might even have to fold before too long.
Consumers are the heart of your business. Without them, your business is useless. They are real people with real issues. They aren't a demographic on a research spreadsheet. That isn't a mother in her 30's that might buy your diapers. That is Erica, a stay-at-home mom juggling 4 children under 10, a husband who was just laid off and who buys your diapers because they are affordable, durable and something she can rely on when the rest of her world is in chaos. Knowing the difference is the key to a company's success.
Your consumers are not a statistic on your revenue sheet. They are human. Treat them as such.
With a plethora of options available when it comes to advertising, your small business might just reap bigger rewards than both you and the competition realize!
Join us for the TGR SEO Services 2020 roundup and, on behalf of everyone here, have a joyous, abundant, prosperous, happy and healthy coming year!
The entire staff of TGR SEO Services would like to wish you a joyous holiday filled with love, happiness, glad tidings and good health!