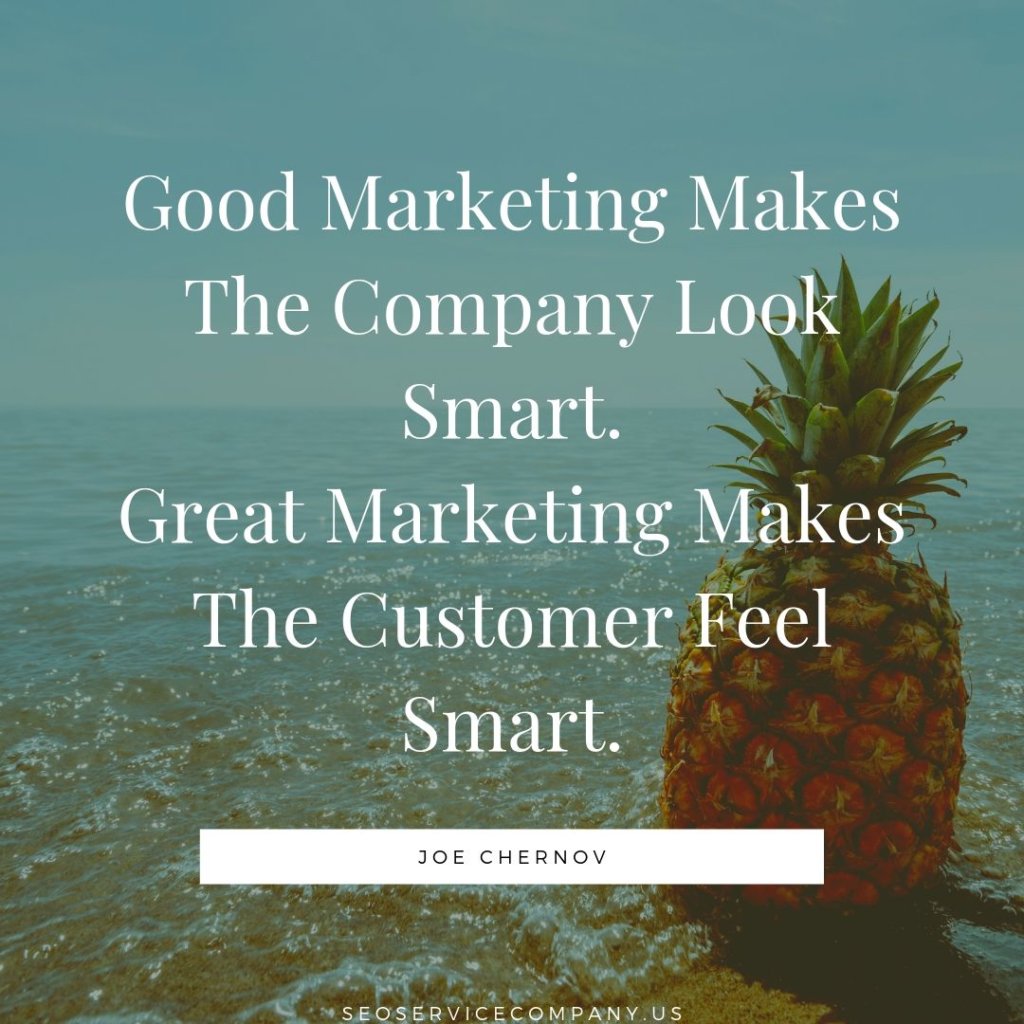 "Good Marketing Makes The Company Look Smart. Great Marketing Makes The Customer Feel Smart." – Joe Chernov
Marketing is all about the customer's experience.
It doesn't matter how many locations you have, how much your marketing budge is, what fancy equipment you have, what your plans for expansion entail or anything remotely close to serving you or your business. It comes down to the customer. How they feel and what they think should be the backbone of why your company thrives and how you reach your core audience.
If a consumer feels smart – about their buying decisions or how to tackle problems in life – they become more confident and feel better overall. If those good vibes are caused by you then the consumer will place their trust in your company and build a firm connection. That connection creates buyers and loyal customers for the long haul. A win-win relationship that truly has no losers and only encourages more benefits.
Create content or focus your marketing efforts on educating your client base. Don't be concerned with giving them "too much" information and having them bypass or ditch you. They know where the good stuff is coming from on a consistent basis and they will return to drink from the fountain of knowledge. Repeatedly. Provide your clients educational resources or show them how your products and services solve problems. Give them the tools they need to solve the problems in their life – invest in THEM – and you will build an unshakable bond.
Buying, or spending money, is often an emotional journey for consumers. Be genuine and create solutions that can help influence consumers in feeling amazing by purchasing from you. Don't spam or sell garbage to your audience. Be original – be real – be productive – be supportive. Remember, it's about solving their problems, not fixing yours.
Your marketing should solve client problems and empower them to take action or be better prepared.
With a plethora of options available when it comes to advertising, your small business might just reap bigger rewards than both you and the competition realize!
Join us for the TGR SEO Services 2020 roundup and, on behalf of everyone here, have a joyous, abundant, prosperous, happy and healthy coming year!
The entire staff of TGR SEO Services would like to wish you a joyous holiday filled with love, happiness, glad tidings and good health!