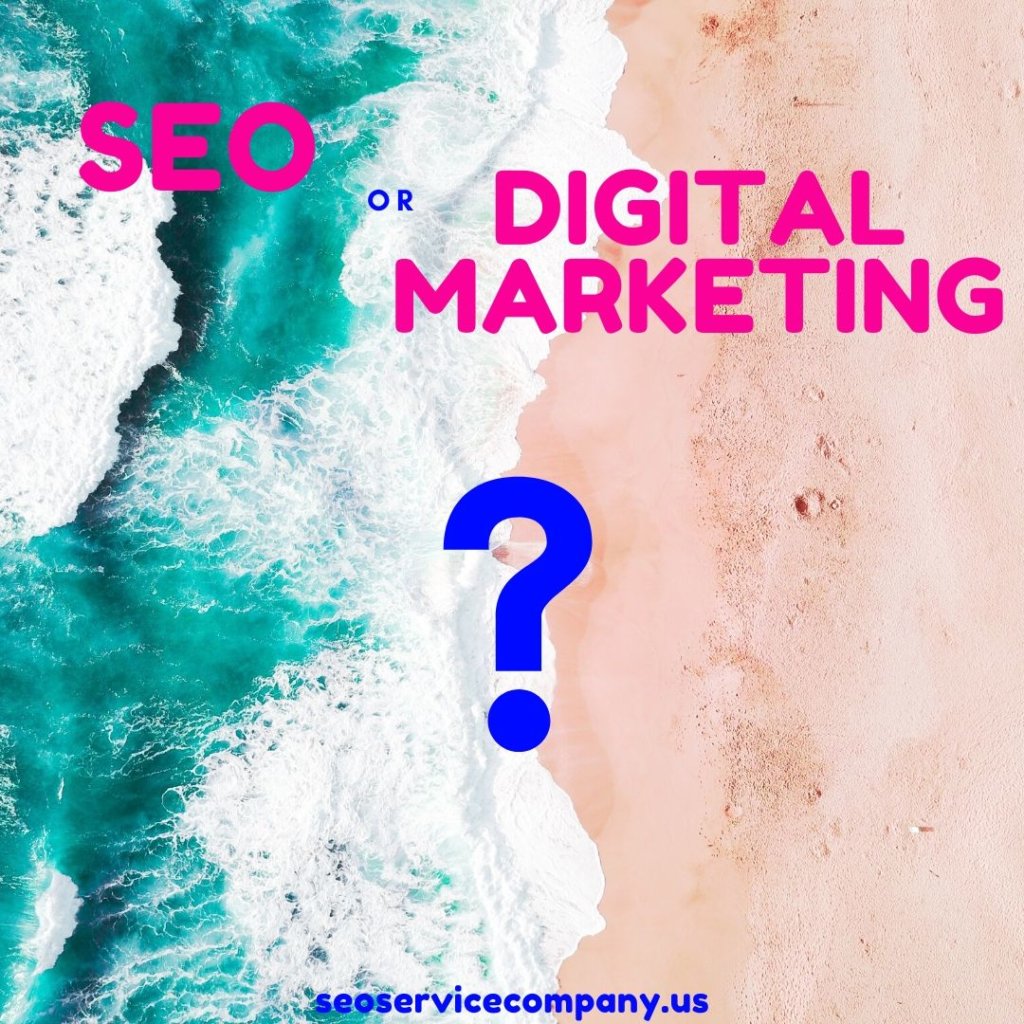 How about both?
SEO, or search engine optimization, is the process of making changes to your website and content to make your site more appealing to search engines such as Google or Bing. Essentially, you are proving to the search engines that your website is the best answer to search queries.
Every search engine has an algorithm that they follow to help decide what website is the best for particular content. There are MORE than 200 factors that go into what causes your website to rank higher for search questions than others. This is not an easy task. With everything from website structure analysis, conversion rate analysis, off-page optimization and so much more, search engine optimization is a complex path that can have you juggling so many balls at the same time.
However, it is essential for being seen in today's online world.
Search Engine Opt., while a full project in itself, is only one spoke of a marketing wheel. Digital marketing is the practice of using digital channels to spread your message or promote products and services. Digital marketing is comprised of many areas (including SEO) and the most promising of those areas for your industry should be explored and nurtured. Take a look at our guide for What A Digital Ad Agency Does for a bit more information on this subject. Aside from search engine optimization, it also includes content, social media, affiliate and email marketing, pay per click, marketing automation and so much more.
So, if you are asking yourself whether you should be focusing on search engine opt. or digital marketing, the answer is BOTH. You truly can't do one without the other. They compliment each other and draw better opportunities to engage with your target consumer.
Are You Ready To Work With An Online Marketing Agency That Understands How To Build Relationships and Brands Simultaneously? Then Simply Click Here >>> SEO Services Advertising Agency!
If you would like to see how to get a Free Website for Business, click here >>> Free Website!
We also offer online marketing and business websites in Los Angeles, Chicago and many more cities!
#websitedesign #freewebsiteforbusiness #businessadvertising #marketingforsmallbusiness#onlinemarketingagency
With a plethora of options available when it comes to advertising, your small business might just reap bigger rewards than both you and the competition realize!
Join us for the TGR SEO Services 2020 roundup and, on behalf of everyone here, have a joyous, abundant, prosperous, happy and healthy coming year!
The entire staff of TGR SEO Services would like to wish you a joyous holiday filled with love, happiness, glad tidings and good health!